Voyage to the Bottom of the Sea comics were also published in England...
...in a tabloid format (9" x 11 3/4") weekly comic anthology called TV Tornado.
This particular strip is from the very first issue.
Other strips and illustrated text stories were based on Bonanza, Man from U.N.C.L.E., and Batman, among others.
Here's one of the few covers to spotlight Voyage...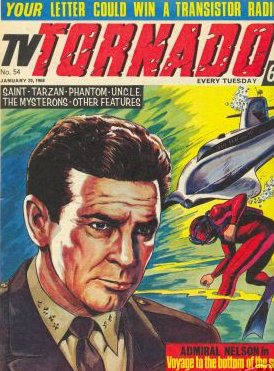 The magazine had a short life-span running 88 issues plus a couple of annuals from 1967-1969 before merging with rival TV Century 21.
We'll be presenting more of the Voyage strips over the next few weeks...